For several years, Scott and Marca MacGregor wanted their family to participate with the Indian springs Mission Team which travels to Honduras each February. After much prayer and planning, details fell into place to go the winter of 2019. In February 2019, the parents and their three children, Books (16), Seth (14) and Liam (11), embarked on the trip to Choluteca, Honduras. In preparation for the their trip, the children learned Spanish phrases, reviewed maps of Central America and discussed international safety travel tips.
The mission team was gone for 12 days, ministering on behalf of The Lizzie Project. The children's grandfather, Rob Roy MacGregor, has been involved in the Honduran ministry for many years.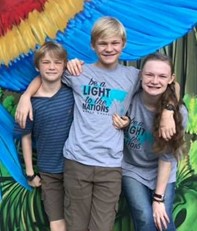 Once settled in Choluteca, the children gave backpacks and supplies to the Honduran school children. They quickly learned that the language barrier was bridged by smiling and being friendly. Playing soccer was a natural way to engage Honduran children. Liam and Seth helped build 14 benches and picnic tables for play areas. Brooks assisted by making cookies for team members and local families. The entire team shared the love of Christ through worship, community outreach and evangelism.
A heart-warming experience occurred when Rob Roy introduced his family to Hondurans whom he had ministered to in years past. It was meaningful for three generations of MacGregors to be involved in ministry together. The mission trip was an inspirational time for the entire family. Marca said "Scott and I are pleased that our children could see the spiritual legacy that their grandfather is creating for others in Honduras."